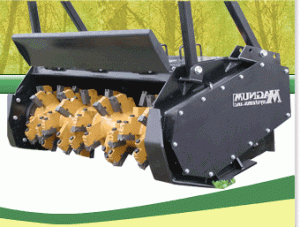 The mulching industry has shown tremendous growth in the last few decades. Over this time, demand for the mulching machine has grown at a significant rate with many companies coming while the big boys have continued to dominate the market. Bradco is one of the big mulcher manufacturers who has dominated the market for decades. So far the company has released many models designed to meet the market needs.
Among the Bradco mulchers that have transformed the mulching industry is the Bradco Magnum Mulchers. These are special types of Bradco mulchers designed with incredible features. It is a machine that any big mulching contractor should have in their collection. These are models of Bradco mulchers that comes with unique features hence making it stand out from the rest. Here are some of the advantages that make them stand out from most of the available alternatives:
Dual Purpose Head
Ione of the biggest features that these Bradco mulchers have over the rest of the machines is the dual purpose head. If you look at the features that the company has provided, you will see that Bradco magnum mulchers can be used on a hydraulic excavator or a skid steer loader. That is one of the reasons why many contractors have been going for these models. That is because of the hydraulic excavator is not working, then you can opt for the skid steer loader. Therefore, at no time will you have downtime because the drive is not working.
Optional Hydraulic Cooler
Another feature that makes these Bradco Mulchers popular in the market is the hydraulic cooler. They are among the few or the only mulchers on the market with the optional hydraulic cooler.  This is a special cooling system that works by forcing air over hot fluid inside a heat exchanger. It is a very effective cooling system that makes these machines powerful. With this cooling system, the temperature can be maintained at the required temperature.
Long Cutting Widths
The Bradco magnum mulchers have an incredibly long cutting width. In fact, if you look at the features that have been provided by the company, you will notice that they have 60'' and 72'' inches. That is an incredibly long width for the mulching machine. It is the kind of width that enables the user to mulch a large space in the field. That means the productivity of the machine is very high. The performance of the machine is incredibly high.