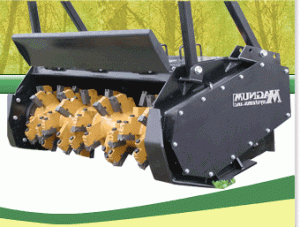 3 Tips To Choosing The Right Cutting Tools for Seppi Forestry Mulcher
Buying cutting tools for Seppi forestry mulcher is one thing, and selecting the right is another thing. That's the mistake some of the mulcher owners make. You don't just buy because the cutter tool is fitting in your machine. You buy it because it is the right part for the machine and the intended task.
To buy the right cutting tools for Seppi forestry mulcher, you need to take into consideration several things. These are factors that help you to buy the right cutter tools for the mulcher and the intended task. Here are 3 main things that you need to take into consideration:
Strength and hardness
The first thing you need to check in mulcher teeth is the strength and hardness of the tool. There are several reasons why strength and hardness are crucial in cutter tools. First, mulching includes cutter very tough would and some time. Sometimes, you might be mulching in very harsh grounds where there could be stones. These are conditions that typical Seppi forestry mulcher teeth many deliver. In fact, you could find yourself dealing with breakages or blunting of the teeth. So you need to consider the strength and hardness of the material used for the construction of the teeth. Alloy steel for the body and Tungsten carbide tips are the materials that offer such properties.
Correct Teeth Size
The other mistake some of the mulching machine owners make is picking the wrong of cutter tools. Mulching machines are precise, and thus, if you make a mistake of measurements, then you will definitely have a problem. First, your Seppi mulcher's efficiency will start going down. The result will be reduced performance and productivity. So, if you are in the business of forestry mulching, you will start experiencing a drop in the level of income.
Correct Weight
Last but not least is the weight of the Seppi forestry mulcher teeth. This is an essential factor to consider since you might end up buying the wrong weight. One of the biggest impacts that wrong has is increased vibrations. When the machine starts vibrating, it automatically increases the wear and tear of the rest of the machine. To avoid this problem, you need to read the manufacturer manual. It provides everything including the weight of all wear parts in your Seppi mulcher. You can also buy from the original manufacturer.